Maintenance and Services
***NOTICE***
MetroConnects will take over wastewater collection service on July 1, 2022
By order of the Greenville County Council, Taylors Sewer District has been consolidated under Metropolitan Sewer Subdistrict, otherwise known as MetroConnects.  All aspects of sewer service formerly provided by Taylors Sewer District are now being provided by MetroConnects.  This includes permitting, developments, and any sewer-related emergencies. Please direct all questions about sewer, including connections, permitting, developments, and any sewer-related emergencies to MetroConnects at 864-277-4442.
MetroConnects' letter to Taylors District residents – important changes about your wastewater collection service.
CCTV | Dye Testing | Emergency Stoppages | Inflow & Infiltration | Manhole
Mainline | Overflows | Point Repair | Pump Stations | Right-of-Way Clearing
Sewer Line Cleaning | Smoke Testing | Storm Water
You may see signs like this in your neighborhood when
sewer maintenance is being performed: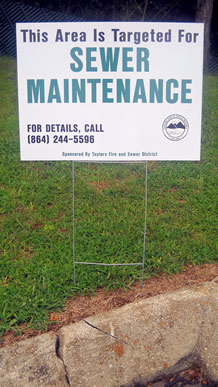 CCTV –On a daily basis, the CCTV Crew uses a Closed Circuit Television Camera to inspect and record the conditions within sewer pipes. Any defects or maintenance problems can be seen via a television monitor inside the TV van. Taylors Fire and Sewer District has one CCTV unit. CCTV data is used to view defects within the pipes and schedule maintenance, repair, and replacement of sewer infrastructure.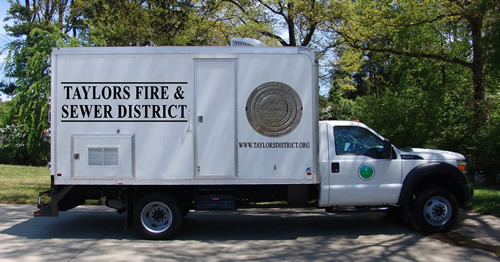 Closed Circuit Television Camera Truck
Dye Testing – We use Dye Testing to confirm connections to the sanitary sewer system. We can determine where a structure is connected to the system by running dye through the plumbing of a building. Dye can be introduced into the sewer system through a sink, bathtub, toilet, or a cleanout. Water is needed to flush the dye through the pipes.
Emergency Stoppages – Our District Office is open Monday – Friday, 8:00AM – 4:00PM. Our field crews work Monday – Thursday, 7:00AM – 5:30PM. However, after hours we have a sewer crew on-call at all times to respond to calls where there are sewer stoppages or overflows. If the stoppage is in the sewer mainline, our crews will unstop/unclog the stoppage. As we maintain our sewer lines this is part of our job and this is done at no direct cost to the person calling in the stoppage or any other constituent. However, in certain cases, our crews may determine that the sewer blockage is located in the property owner's service line. In these cases the sewer service line is owned and maintained by the property owner, and you should call a plumber. For a list of local reputable plumbers, please contact the Better Business Bureau or see the Yellow Pages. To see how you can help prevent stoppages in the sewer lines, please click here.
Inflow & Infiltration – Also called I/I (pronounced I and I), Inflow and Infiltration is the seepage or discharge of water into a sewer system from sources such as (but not limited to) springs, rain events and stormwater, groundwater, surface runoff, and yard area drains. These seepages occur because of defective or cracked pipes, pipe joints or connections, or manhole covers or walls. Inflow differs from Infiltration in that it is a direct discharge into the sewer rather than a leak in the sewer itself. Source:  Sacramento Manual, 7th ed. Click here for more information. Download our brochure.
Manhole – A sewer manhole is a hole that serves as an entry point for sewer employees to clean, televise, and otherwise inspect the sewer mainlines. They can be located in the road or in a right-of-way. The only part of the manhole that is visible above ground is the lid, although there are many subterranean parts to the manhole. In the bottom of the manhole there is a connection to the sewer pipe, and sewer flows through the manhole from one section of pipe to the next. As part of Operations & Maintenance and Rehabilitation, we often install, replace, and repair manholes. Manholes are sometimes referred to as access holes or maintenance holes. See also What is a Manhole?
Mainline – A sewer mainline is any sewer line that is owned and maintained by a public entity. Taylors Fire and Sewer District owns and maintains approximately 130 miles of sewer mainline throughout the District. We often need to replace or repair our main lines for regular operations and maintenance purposes. We have two types of mainline:
Gravity – Gravity lines carry sewer from a higher elevation to a lower elevation due to the force of gravity. The lines carry the wastewater downhill through a system of pipes until it reaches the treatment plant for treatment. This is the most common type of mainline, and gravity lines make up the majority of a wastewater collection system. Source:  Sacramento Manual, 7th ed.

Force Main – Force mains carry wastewater under pressure from the discharge of a pump station to a point where it can connect to a gravity line and continue flowing downhill.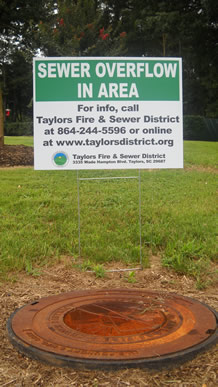 Overflows – In some cases a stoppage in a sewer line can back up so far that sewage starts coming out of a manhole, clean out, or other location and gets out onto the ground. If you see this, please call us immediately at 864-244-5596 during normal business hours (Monday – Friday, 8:00AM – 4:00PM) or 864-244-5596 during after-hours. Sewage on the ground is a public health hazard and can be very dangerous to anyone who is exposed to it. It can also pollute the local waters of the State if it enters a ditch or stream. Overflows may be caused by a stoppage or they may be caused when there are rainstorms. During rainstorms, large amounts of rain water get into the sewer lines and cause them to become over-capacitated with water. We call this Inflow & Infiltration (I/I). One of the main purposes of Rehabilitation is to cut down on I/I.
Point Repair – In some cases, a repair to the sewer line does not require that a whole pipe be replaced. In these instances, it is possible to repair just the bad section of pipe via sectional point repair or "sectional lining." Sectional point repair enables us to pinpoint a pipe area and rehabilitate it much more quickly and efficiently.
Pump Stations – Also called Lift Stations, Pump Stations are often found at low points in topography where wastewater must be pumped uphill to a point where it can join other gravity fed lines. A wet well gathers the wastewater, where at different times the pumps will turn on and send the wastewater out through the force main. Taylors Fire and Sewer District owns and maintains three pump stations.
Right-of-Way Clearing – Right-of-Ways (ROW) or easements grant the right and privilege of entering private property to construct, maintain, and operate the components of our wastewater collection system. Although most Taylors Fire and Sewer District sewer lines lie underneath the road, in many cases they are located on private property. We must maintain our lines even in these areas where they go through private property via the right-of-way/easement. Therefore, in areas where the brush and foliage is not cut back by the property owner, our crews must maintain and cut down the plant and tree growth. If this is done, we know we are able to get our heavy equipment and large trucks down through the easement to make repairs, clean lines, or conduct inspections. For more information, please see What is a Right-of-Way? and Restricted Uses Within a Taylors Fire and Sewer District Right-of-Way.
Sewer Line Cleaning – Regular cleaning of sewer lines is important to reduce I/I and keep the lines clear of foreign material.  Sewer lines are cleaned using high velocity pressurized water to wash away most grit, grease, and debris. Keeping sewer lines clean is also important to allow the CCTV camera to travel through the sewer line to inspect for any problem areas to repair or rehabilitate and reduce I/I.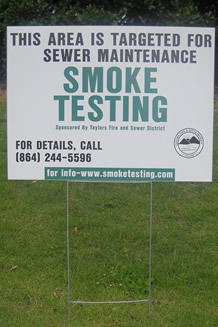 Smoke Testing – A method of blowing smoke into a closed-off section of a sewer system for the purpose of detecting sources of stormwater inflow into the sewer system. Smoke testing involves the use of a blower which forces air mixed with liquid smoke into a manhole. The smoke generated is nontoxic, has no odor, and is typically foggy white in color. The smoke is forced by the blower through the sewer system and follows the path of least resistance. Typically, the vent stacks of homes and businesses connected to the sewer pipe being testing will release the smoke into the atmosphere. For more information, please visit http://www.gethurco.com/smoketesting/. To see what smoke testing looks like please click here.

Stormwater – The excess water running off from the surface of a drainage area during and immediately after a rain event. Source:  Sacramento Manual, 7th ed.